8×10 Picture Frames are one of the most common but yet sought after sizes of picture frames and one of the easiest to get in what we would call the cheap picture frame bracket.
If you are counting in mm then the standard size 8×10 picture frames are 203.2×254 mm.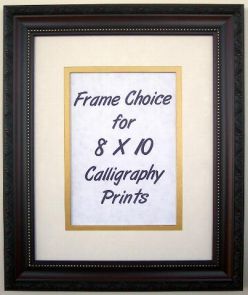 As you can see from the picture above, an 8×10 picture frame has a very nice ratio value of 1.25 which has a pleasant effect on the eye.
In the days before digital cameras were so popular, an 8×10 would have been considered perhaps a little bit on the big side, as you had to pay to get all your photographs printed out before getting the chance to see them. Now in the world of digital photography, we only print out the best pictures and as such there is a trend of printing in bigger formats and as such buying slightly bigger frames to show them off in.
We say that for a cheap picture frame which doesn't take over the room, it's hard to go wrong with a stylish 8×10 picture frame in your living-room.