Black Picture Frames are the modern look to give your photos the a stylish and neat finish. We would say there that black picture frames are definitely the current look and the most in fashion this season. Black is back!
Let's take a look at some fine examples…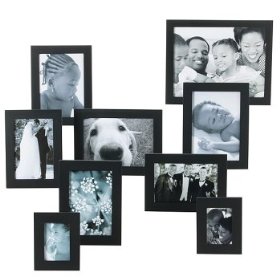 Black picture frames can be found in mostly wood finishes and as plastic picture frames. The wooden photo frames tend to have a matte finish, while the plastic photo frames tend to have a glossy finish. Our advice is to go for a matte picture frame when the photo is in color and to use a glossy picture frame when the photograph is in black in white or gray-scale.
If you have a stairway in your house or apartment and have either white on magnolia colored walls (or any other subtle, lite color) then hanging a set of wall mounted black picture frames in a diagonal line up the stairway is beautiful. For the single bachelor pad, try something like a black and white photograph of the Manhattan Skyline or Stockholm's old town. For those of you in a family, what could be better than framed pictures of the kids or grand-kids?